A Leading Rent-A-Car Company Embraces Integrated Reporting by using Microsoft SSRS [Case Study]
"Using the Microsoft technologies allowed us to obtain insightful information from the data that was already residing within our system. We didn't have to do something out-of-the-box; it just required putting the pieces together within our budgetary constraints. Whether it was sales, customer services or claim processing, we were able to pull reports within minutes that previously took us 2-3 days" (Client's Project Lead).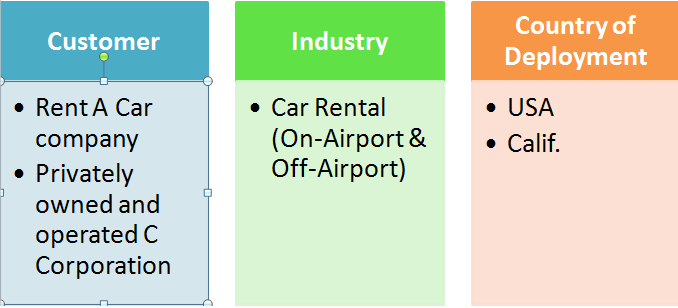 CUSTOMER BACKGROUND
The client operates more than 15 major Rent-a-Car airport locations across the US and offers a selection of foreign and domestic vehicles to airport travelers. The company serves as a cost-conscious and discerning budget rental car provider. The bulk of the operations is based in San Jose, San Fransisco, Orange County (SNA) and San Diego (SAN). The client is expanding across the UK and other parts of the European car rental market for which it requires a holistic technical partner.
Important business functions of the company that required an integrated report generation were:
Claims report processing
Prepaid reservation
Reservation cancellation percentage
Reservations turning into no-show
Booking data and
Daily book analysis
THE CHALLENGE 
Client's IT function used basic reporting tools such IBM's Cognos (for basic reporting) and Microsoft Excel sheets to import data from disparate sources. The client needed development and ongoing support to construct special databases that can be used for fast analysis of large amounts of data. The reports were required in printed and interactive format for both technical and business users.
The client can obtain these capabilities by using SQL Server Data Tools used for Business Intelligence (SSDT BI). SQL Server Reporting Services (SSRS) of Microsoft can be used to build and deploy the interactive reports. This Microsoft SQL Server suite includes SSRS, SSIS (SQL Server Integration Services) and SSAS (SQL Server Analysis Services). All the aforementioned tools would use Microsoft SQL Server to generate reports.
SOLUTION
Allied Consultants used Microsoft SSRS and provided an interface into Microsoft Visual Studio. MS SSRS was then integrated with Microsoft SharePoint 2013, a web-based application platform. Integrating SSRS with SharePoint allowed the client to obtain an intranet for in-house users of the company, document & file management system, a social network for executives and employees, enterprise search and content management. By deploying SharePoint 2013 at the front end, the client gained access to a user-friendly GUI (Graphical User Interface) as SharePoint has an interface that resembles Microsoft Office.
How the Solution works?
The technical resources of the client, the developer and data analyst, generates queries using JQL (JIRA Query Language) and send them to our project manager. JIRA 5 is used to connect between client and Allied Consultant's resource persons, activities and applications. JIRA forms an important part of Allied's agile development methodology and project status visibility.
Benefits
The key benefits achieved by the client were:
Obtaining insightful information about the most profitable locations and market segments
Reducing the time required for claims processing from 7 days to 3 days, thus improving the customer services
Reducing the reservation cancellation occurrences
Gaining access to interactive reports and a user-friendly GUI allowed the client to design sales promotion campaigns, improve the operational efficiency of locations that generated sub-optimal revenues and increase the number of locations served from 2 countries to more than 14 countries.
Technologies & Frameworks
Microsoft SQL Server
Microsoft SSRS
Microsoft SSAS
Microsoft SSIS
SharePoint 2013
Agile Methodology
Future Deployment Plan
Data Warehouse Development
Developing Technological Capacity to perform Predictive Analysis