What does the release of SharePoint 2016 Preview mean for enterprise customers?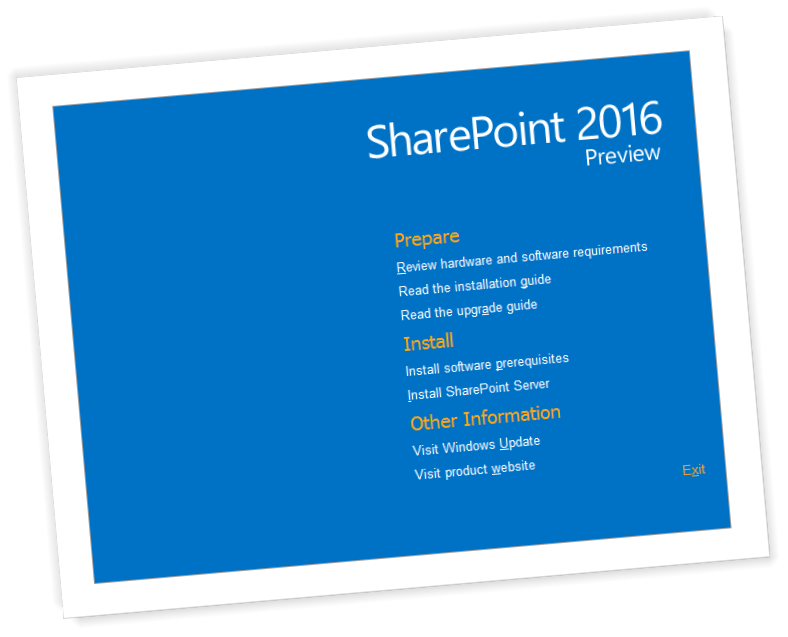 Microsoft announced the release of SharePoint 2016 Preview back in August 2015. I sat down with one of our Sr. SharePoint consultants, Bilal Amjad, to understand what it means for the enterprise customers of SharePoint and the broader developer community.  Below is the quick Q&A session I had with Bilal.
Q. How will the SharePoint Server 2016 Preview help enterprise customers?
Bilal: The preview version is not for the production environment, it is just released for the IT Professionals & developer community. The major aim is to identify bugs before the product goes into the production environment.  A major contribution of SharePoint 2016 will be the cloud hybrid search.  It means hybrid configurations involving on-premises SharePoint and the cloud-based SharePoint Online, letting enterprise users to take advantage of features that exist only in the cloud version while still letting you run most of SharePoint on your own servers.
Additionally, enterprise clients will now experience an enhanced level of integration between SharePoint 2016 and Office 365.
Bilal's views seem to resonate with Microsoft's official version about the release of SharePoint 2016 preview in which it was stated that Microsoft has heavily invested in SharePoint 2016's "familiar and intuitive user experiences, cloud-inspired infrastructure with hybrid at the core and robust security and compliance for SharePoint Server 2016".
Q. What challenges have you helped customers overcome recently using SharePoint's older versions, and where did the older version lagged?
Bilal: Mostly, our projects were regarding document management workflows, and business process automation (BPO). We have developed SharePoint solutions for the education sector and solar turbine companies. Our enterprise customers usually start with BPO and document management and ultimately head towards branding. The branding part is supplementary, but it has become quite important as a brand's  corporate identity hinges on good branding.
Q. How did the release of SharePoint Server 2016 Preview may affect enterprise customers/developer community and what should they do about it?
Bilal: There is an eagerness in the IT professional community (since configuration management has become easier), but not as such in the developer community. The latter showed much enthusiasm when SahrePoint 2013 was released. Microsoft introduced the SharePoint Apps when SharePoint 2013 was released. This got the developer community excited, but the current version does not differ substantially, the big difference being enhancements in configuration management and hybrid search.
Q.  Is the SharePoint 2016 Preview also available in Azure?
Bilal: Yes, the SharePoint team has created a new Azure virtual machine gallery image with SharePoint Server 2016 IT Preview and its prerequisites pre-installed. Anyone intending to try the SharePoint 2016 preview in Azure should do so in A5 (Extra Large), A6, or A7 virtual machine sizes.
Note: Below is a screen grab of SharePoint 2016 IT Preview deployment in classic Azure virtual machines.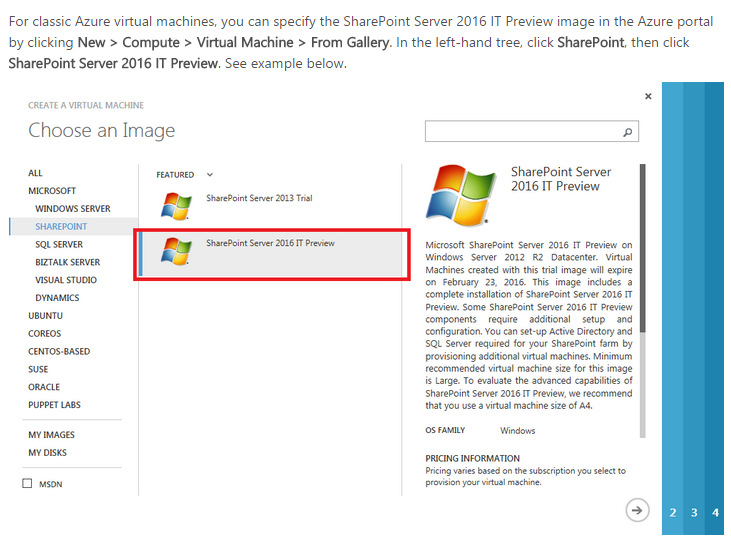 Q. I've heard a lot of people in the industry talking about an improved mobile experience and improved provisioning capabilities in SharePoint 2016 preview.
For example, Bill Baer, the technical product manager for SharePoint pointed out that "improved provisioning capabilities help IT departments and hosting service providers maximize existing infrastructure investments while exploring new services, improved management, and higher availability through an improved role-based installation architecture". Bill also highlighted that "SharePoint Server 2016 further empowers your workforce by delivering a consistent experience across screens, whether using a browser on the desktop, a mobile device, tablet or slate". What is your take on this and what does it mean for enterprise customers?
Bilal: I think there is a lot of improvement for the IT professionals, those responsible for maintaining servers, and performing installations. There are significant changes in installation, and additional server roles can be created.
Regarding the improvements in user experience (UX), I think a lot of improvement came with the release of SharePoint 2013. I think those of us who have used SharePoint 2013 a lot in the production environment have already observed these changes in the 2013 release. From a customer perspective, I think mobility has become a major driver of collaboration suites, so anything or any improvement that takes there is welcome.
Key takeaway
My interview with Bilal left me with a feeling that, essentially, the new test release of SharePoint server is about the shift of Microsoft towards "cloud first" and "hybrid". The view is shared by Peter Bruzzese of InfoWolrd who wrote on the subject and stated that " the path is a hybrid one, where the on-premises version is extended by cloud-only features, with the mix shifting from on-premises to cloud over time". This very perception is based on what SharePoint's product team has been sharing with media throughout the period. I'll leave you with a tweet by Jeff Teper, SharePoint's product director that outlines the "cloud-first" strategy.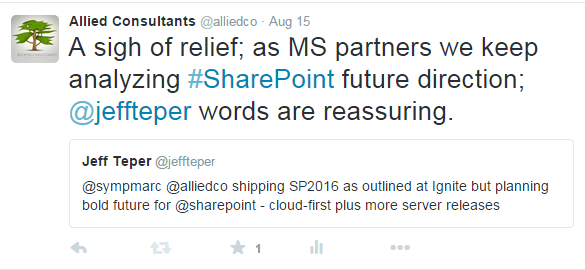 You may like
6 Challenges of implementing an enterprise content management (ECM) system
Google Apps & Microsoft Azure in Field Services Company