BPO: The Key To Expand Your Business Horizons?
The business process outsourcing (BPO) sector, worth a staggering $260 billion, often goes unnoticed, mainly because of its discreet "below-the-line" activities. However, I contend that this industry, with its potential to enhance business success, resilience, and continuity, holds remarkable significance.
In a dynamic business environment characterized by rapid technological advancements and fierce competition, companies are compelled to adopt innovative strategies to thrive. Outsourcing, once seen as a tactical maneuver, has now emerged as a strategic choice that can reshape the trajectory of businesses, enabling them to unlock unparalleled growth opportunities.
The Growing Scope Of Business Process Outsourcing
In the past, outsourcing was mainly associated with basic tasks or occasional projects. Processes like data entry, call center operations, and payroll were recognized as cost-effective alternatives for managing operations. However, the realm of business process outsourcing (BPO) has undergone significant changes. It is no longer limited to entry-level tasks; instead, it has grown to encompass more substantial business functions. This expansion includes senior-level positions and is driven by the imperative for agility, connectivity, and cost control. As the president of a company specializing in outsourced sales consultants, I am convinced that this shift towards adoption is primarily motivated by the demand for flexibility, seamless communication, and efficient spending.
The realm of business process outsourcing (BPO) is set to witness substantial growth, with a projected global market value reaching USD 350 billion by the year 2023. Looking ahead, Statista's forecasts paint an even more promising picture, with expectations of a further surge to $450 billion by 2027. This expansion signifies a robust compound annual growth rate (CAGR) of 6.48% spanning from 2023 to 2027. Anticipated changes in the landscape include the ascent of the average employee cost to $100.50 by 2023. Notably, the United States is anticipated to lead the charge in BPO sales on a global scale, with an impressive forecast of USD 129.70 billion for the year 2023.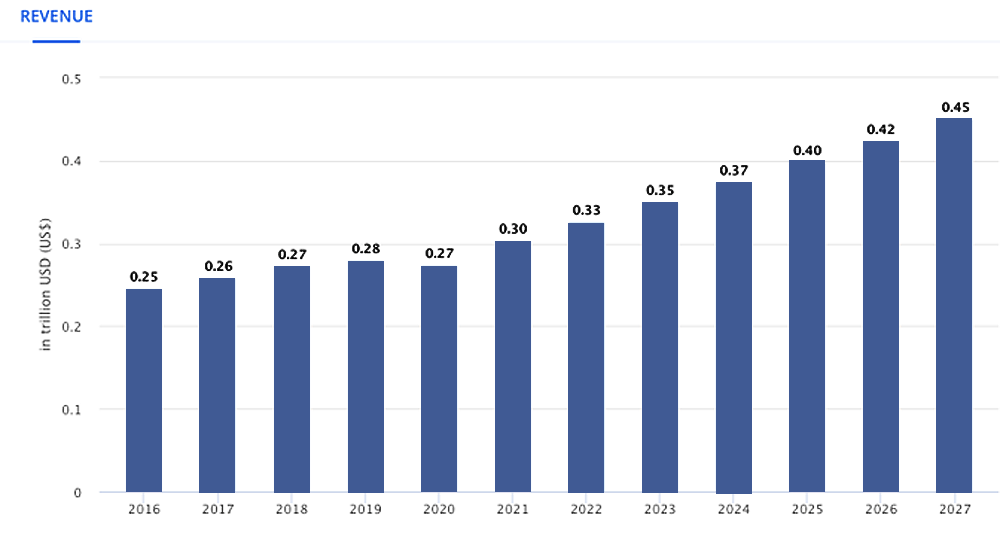 Manufacturing Process Outsourcing – Contract Manufacturing
In 2022, Research and Markets conducted a sector analysis that appraised the worldwide contract manufacturing market's worth at USD 246.51 Billion. Projections indicate substantial expansion, with an anticipated escalation to USD 512.74 Billion by 2030. This growth trajectory is underpinned by a robust compound annual growth rate (CAGR) of 9.58%, spanning the years from 2023 to 2030.
According to findings from Deloitte's Global Outsourcing Survey, half of the surveyed companies disclosed that they opted for outsourcing in the domains of manufacturing and supply chain procurement.

IT Outsourcing
The expansive domain of IT outsourcing is poised for robust expansion, with remarkable projections for growth. As per insights from Statista, the market value within this sector is set to scale up to $430.53 trillion in the year 2023 and further ascend to $587.3 trillion by 2027.
This progression signifies a robust compound annual growth rate (CAGR) of 8.07% spanning the period between 2023 and 2027, with the lion's share of revenue anticipated to originate from the United States (amounting to $156.20 billion in 2023). Notably, the average hourly cost per employee in the IT outsourcing sector is predicted to be $123.60 in 2023.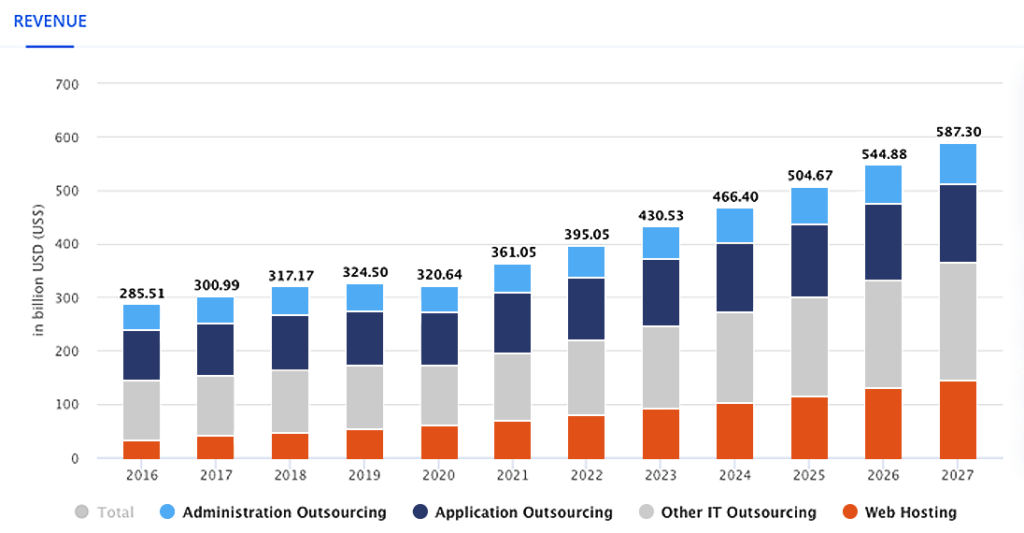 The most pivotal facets of IT outsourcing encompass administration/support outsourcing, application (development and maintenance) outsourcing, and web hosting. Collectively, these three segments contribute to over half of the sector's market value.
Benefits Of BPO

1. Technology Advancement
When businesses opt for outsourcing, the burden of maintaining up-to-date technology, including software and communication equipment, largely shifts to the service provider. This cost is distributed among multiple clients, enhancing cost efficiency.
2. Expertise and Specialization
Embracing BPO enables businesses to access top-tier talent without bearing the full brunt of overhead and embedded costs associated with recruitment, training, certification, and onboarding. This ensures a constant connection to leading-edge expertise.
3. Flexibility in Budgeting
For smaller businesses, the utilization of outsourced business process consultants on a fractional basis allows for budgetary flexibility. This approach allows the acquisition of senior-level proficiency on a part-time basis, minimizing costs.
Also Read This: Things To Seek In An IT Consulting Firm: Find The Perfect Partner
4. Effective Performance Management
When faced with performance gaps, transitioning to new providers through business process outsourcing can prove more streamlined than executing an internal performance management plan. This avoids complexities such as terminations, recruitment, training, and on-boarding.
5. Enhanced Strategic Focus
Outsourcing business processes empowers companies to maintain an unwavering strategic focus on their core competencies and distinctive advantages. This liberates organizations to navigate their market with agility, unburdened by support processes.
6. Leveraging Diversity
The utilization of outsourced service providers from different geographic regions can facilitate the execution of diversity initiatives and corporate objectives. It is crucial to emphasize that if enhancing workforce diversity is a primary objective, it should significantly influence the selection and engagement of outsourced staff.
Final Thought 
In the future, I imagine a world where enterprises adopt a streamlined executive core, outsourcing essential functions. This decentralized operational paradigm carries the potential for heightened resilience, recession resistance, efficiency, and economic sustainability. Of course, there exist certain trade-offs, rendering this framework unsuitable for every business. But for many future founders, entrepreneurs and leaders, this BPO-built business structure holds the key to launch and grow quickly and efficiently.
What do you think? Can you imagine building your company almost entirely on the back of BPOs?