[Case Study] Imports Management Portal uses Cloud Printing to get 3x better at Customer Services
"We are a lean company. Our organizational structure and culture does not allow us to manage work through obsolete methods. We have to be tough on the cost side and perform brilliantly on the customer side. Google Cloud Printing allowed us to make our work printers available to us and anyone we choose. It works on my phone, tablet, PC and any web-connected device. Cloud printing makes our import management portal quite flexible and responsive in meeting customer needs" (Client's Project Lead)
CUSTOMER BACKGROUND
The client is an import management software company operating a cloud-based web portal. The software enables electronic filing of import entries at any border or port in the United States. The main value proposition of the cloud-based application is that it allows the US based importers to execute real-time release of their merchandise from any border or port in the US. The cloud-based software serves two broad categories of customers:
Direct Importers
Customs Brokers
A unique market positioning of this software is that it is used by enterprises with thousand of employees as well as small businesses with a single user.
The portal houses all the data from an importer's commercial invoice such as:
Carriers' bills of Lading
Parts & Tariffs
Manufacturers
Participating governmental agencies
A key problem that the portal's API solved for importers and customs brokers was the elimination of manual keying of their shipment data, often resulting in a delay in the release of shipment. The client side API addressed this crucial problem and allowed individual importers, enterprises and brokers to integrate their shipment system with the software using a flexible digital interface.
CHALLENGE
Client handles over 2.5 million import transactions each year. It required that invoices should be printed at the client's office for customer services and record keeping purposes. Some end-users preferred that their invoices should be e-mailed while others required their invoices to be delivered through the postal service. 1000s of bills were printed manually that severely impacted the customer services. Only a few hundred print outs were taken each day resulting in a delay of up to 2-3 days in servicing the enterprise clients. Using manual commands for printing invoices also required manual labor and lack of integration in record keeping and haphazard filing of relevant documents in each customer's import file.
SOLUTION
Allied Consultants had an ongoing consulting relationship with the client. The integration of APIs allowed that all document types such as carriers' bills of Lading, parts & tariffs, manufacturers and details of participating governmental agencies are merged and converted into a single PDF document. The pdf document was then sent to Google's cloud printing API. Google locates that printer (the non-cloud-aware printers) and prints the pdf document using the printer in the client's office. Bigger files were hosted on DropBox and their short-links were shared with end-users. A major challenge for Allied's developers was that Google cloud print was a beta version and there was no defined API for printing. The main emphasis is to print through Google Chrome. Error handling was also significantly difficult. However, these challenges were overcome through research and development of a customized solution for the client.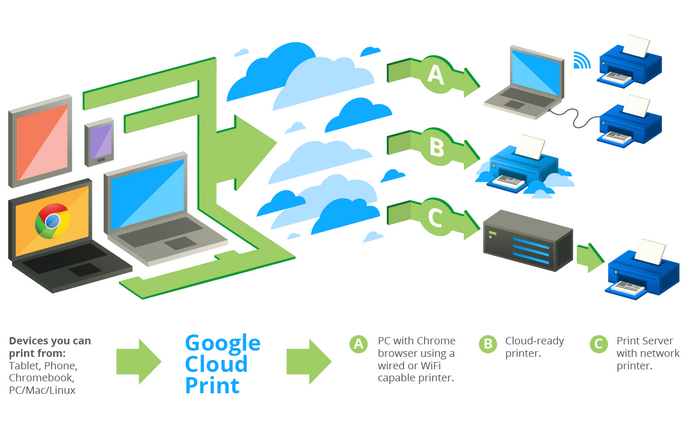 Image Courtesy: Google Cloud Print
BENEFITS
A major benefit of integrating the company's printers with Google Cloud Print was obtaining the location based extensive printing capacity. The client was able to print documents in bulk without going through the hassle of spending hours laboriously printing the required documents one by one. All printers at the client end were made Cloud printers. The data that resided in cloud for printing purposes was also safe as it was removed once the data reached the printer. Regardless of the location, enterprise clients are able to print from anywhere. It reduced the dependency of client's employees to remain present near the printer for printing the important customer files. It also reduced the manpower requirement to handle the printing load.