Managing IT project portfolio: What, why and how of outsourcing projects
Calgary, Alberta is among the cities worst hit by the plummeting oil prices. "Home prices are down, unemployment is up, food bank usage is climbing, and no one knows when things might turn around with oil below $35 (U.S.) a barrel on Thursday, from highs of well over $100 less than two years ago", reports The Globe and mail. The graph below shows the financial bloodbath that oil markets are facing since two months years.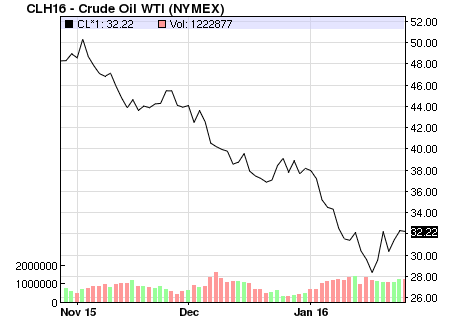 Ian Bickis further reports that "I definitely see a lot of sellers that are desperate to sell. And here's the unfortunate part – they're desperate to sell, but it still isn't selling".
A lot of professionals are looking for jobs outside of Calgary. Similarly, companies in Canada are setting up relationships with services partners to outsource their non-core tasks. PwC (Price Waterhouse Coopers) reports that offshore outsourcing of IT work is not a passing fad. It goes further by stating that any knowledge-based function that does not require direct personal interaction is a candidate for outsourcing.
Similar cost and skill-shortage pressures are building in Europe and the U.S. Start-ups in the U.S are upending the major corporations. In times like this companies are finding and hiring talent from abroad.
However, small and medium enterprises (SME) do not have the elaborate systems and processes that large firms use to shortlist and select offshore IT partners. Here's a list of steps that smaller firms can take to set-up the offshore partnerships and relationships.
Why companies outsource?
Focus in the right place: Mostly, companies doing so do not have the skill-set that is required for tasks being outsourced, or at a price point that is not possible to sustain. By concentrating on their core (value-adding) competency, they're able to leverage their resources better.
Reduced costs: Companies usually outsource to a supplier that specializes in the function and does that functionality more efficiently as opposed to the company. By using the services of an expert group, they use the skills, knowledge, as well as internet connections to reduce overall project delivery-related bills.
Selecting and coaching employees carries a high price tag. Outsourcing helps companies concentrate HR efforts where they mostly need.
Level playing field: Smaller businesses are unable to have the funds to match the particular in-house help that greater businesses have. Outsourcing may help modest businesses act "big" giving all of them access to the similar technology, as well as skills that large businesses leverage.
Though you'll find an amount of risk in outsourcing as there is trust involved in delegating tasks to the right partner, one can manage these risks proactively.
Doing the homework
Some of the key questions that you may reflect upon when setting up partnerships with offshore teams are:
Will your current internal IT group possess the abilities as well as experience to create, implement as well as handle the IT workloads you intend to outsource?
Is it less costly to get another individual undertaking the project as compared to try and do it in-house? Cheaper operational and labor prices are generally one of the main reasons why companies tend to outsource. When appropriately implemented they have some sort of denoting affect on businesses revenue which enables it to produce substantial financial savings.
How rapidly do you need to implement the solution? For those who have in excess of a few months as well as just a few companies to integrate, people might possibly handle that in-house.
Is the profit at risk with this particular enterprise integration or collaboration workload? For example, do you need to integrate a few clients which, if you can't get it done effectively or rapidly, your business can lose those clients or potential profit? If you do not integrate a few vendors the proper way, can an item be late?
Could the seller provide a proper degree of information protection trustworthy enough to build a sustainable relationship?
When you've assessed your budget, internal IT methods, time to solution as well as potential goals you want to achieve, it could come to be obvious which outsourcing partners are relevant.
What part of the projects should be outsourced to offshore teams?
Let's take the example of integration projects (B2B & EAI). Now, it all comes down to what integration projects should be outsourced? An easy method is needed to identify which projects are generally ideal for split shore/offshore model of delivery. There are two types of approaches i.e. qualitative and quantitative that can help you make a decision.
Use the qualitative factors initially to pick projects/use-cases that qualify for offshore initiatives.
Projects with well-defined requirements that lend themselves to modular methodologies or the remote execution of programming and testing tasks, rather than highly iterative development processes, are more suitable for offshore delivery.
Projects that don't require much face-to-face, end-user interaction during the entire life cycle of the effort are typically more suitable for offshore delivery.
Selecting an application with a high level of stability enables enterprises to pilot the offshore delivery model.
Pilot applications that don't require complex procedures involving, for example, significant manual intervention or data fixes. Nor should they require a high level of integration with other systems, unless the majority of the systems are part of an entire application suite targeted for offshore delivery. This will ensure that the transfer of skills is completed in a short time and that you quickly gain the benefits of offshore support.
The application should be scheduled to remain in use for at least 16-24 months. This will provide sufficient time to ensure that an adequate payback period is realized.
The level of explicit knowledge or documented information that is available is an important factor to consider when selecting a pilot offshore application. Projects with high levels of existing knowledge will likely be implemented faster and at lower price points.
Pilot applications should be from business areas that readily accept the concept of using offshore resources.
Some quantitative factors to consider before delegating the project:
The numbers of personnel involved in the engagements that determine the scale of the project and correlate to the savings achieved.
The savings achieved will vary significantly according to the duration of the engagement. For example, the savings from a multiyear offshore outsourcing arrangement would be very different from a three-month assignment.
The specific technology platforms involved in an offshore project may affect the demand and supply of specific skills.
The statement of work that defines the project and the service provider's role in the overall effort also determines the savings achieved through the effort. As the scope of the effort increases, the benefits will increase as long as the risks are managed.
Parting thoughts
Actual scope of the project: Define and document the actual scope of the project
The right partner: Choosing a companion who is not relevant to your needs falls directly on you because if the project steers in the wrong direction then along with a failed project one needs to handle a failed relationship also, therefore, select wisely. To choose the right technology partner, you need a good background check to know exactly who they are in addition to how they function. Reputation and references of past clients is a good place to start.
Tell your IT partner about your expectations: Regardless of whether you've worked with the particular outsourcing company or not, it's vital that you set targets beforehand.
Be straightforward but polite: People certainly don't desire to upset their current outsourced companion in these circumstances. You're counting on them to complete the actual project. Having said that, you nevertheless should continue being rigid — but courteous — when talking about scope creep as well as missed deadlines.
Why is it not about the scope of work only?
Lastly, it is not only about the savings or skills that you don't find on-shore, it is also about leveraging partner's strengths and creating something that is greater than the sum of its parts. Stephen Covey famously quoted that "Our most important work, the problems we hope to solve or the opportunities we hope to realize require working and collaborating with other people in a high-trust, synergistic way—whether at home or at work".